You may already know that Norwex Microfiber products set the standard for excellence and performance. But what you may not yet know is that earlier in 2020, several of our products were submitted for—and have now received—STANDARD 100 by OEKO-TEX® certification, thanks to our commitment to excellence!
Here's why this is important: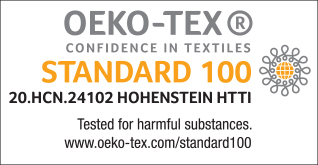 OEKO-TEX® certification is the world's best-known certification for excellence in product quality in textiles.

Every component of Norwex products with the STANDARD 100 by OEKO-TEX® label—from yarn and dyes to trim thread, labels, buttons and elastic—has been rigorously tested and found to be free of harmful substances.

Only products that have been tested to meet the exacting criteria of the certification process are permitted to carry the label, and they must pass annual re-testing to maintain their status.

OEKO-TEX® consists of 18 independent research and test institutes in Europe and Japan, which have joint responsibility for the development of test methods and limit values.

This independent third-party testing takes into account more than 350 regulated and non-regulated substances that may be harmful to human health, including harmful substances based on scientific parameters for maintaining good health.

OEKO-TEX® certification ensures these products are free from legally forbidden chemicals as well as colorants and other additives not allowed by local and global authorities.

They are also free from legally allowed, yet harmful, chemicals.

In many cases, the limit values for the STANDARD 100 label go beyond national and international requirements.

Test criteria also take into consideration different ways a substance can be absorbed into the body, including through skin contact and respiration.

Norwex products with the STANDARD 100 by OEKO-TEX® certification meet OEKO-TEX's most stringent criteria, Class 1, which is usually reserved only for products designed for use with babies and small children.
Phase 1: Just the beginning
We're proud of the fact that ALL of the products submitted for testing so far—our phase 1 products—have received STANDARD 100 by OEKO-TEX® Class 1 certification. Testing is ongoing for the remainder of Norwex Microfiber products, and we will provide updates as they receive this certification.
Please note that, as part of the audit for the STANDARD 100 by OEKO-TEX® certification, we have also reviewed the wording used to describe our microfiber made from recycled materials. To better align with the certification and to be more specific moving forward, we will refer to these products as containing "recycled microfiber yarn" rather than "recycled materials.
Norwex is very proud to have received the STANDARD 100 by OEKO-TEX® certification on our phase 1 products. This is in perfect alignment with our Mission and certifies that our products are harmless to human health.
Resources: